Example Adult Pictures & Testimonials
Mini Goldendoodles and Mini Irish Goldendoodles
Pictures below are all of doodles that were born here. The first picture of each doodle is when they are around 6 weeks old and the second picture is when they are fully grown.
1. F1 mini Irish goldendoodle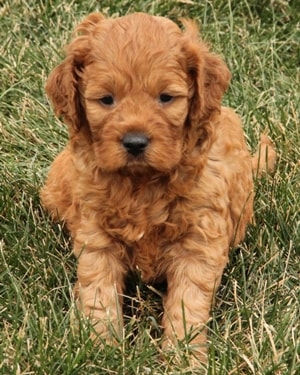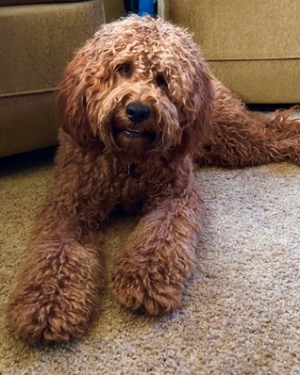 We just had to send off this picture of Bentley to you. We drove down with our RV to Florida for two months to escape the snow in Minnesota.
We just had to tell you wherever we go and whenever we are walking with Bentley people have stopped us and mentioned what a beautiful dog - where did you get him and we tell them in Morning Sun, Iowa! They fall in love with him as he is such a people person - he loves people and other dogs. People will stop by our spot and call him by his name and then there they are, giving him a belly rub. He even met a ferret down here that is nuts about Bentley. I don't like ferrets myself.
The picture doesn't quite show his true color he's a little more red in his coat, he's about 45 pounds now which our vet said is where he probably will be. What a loyal companion he is. My husband had quadruple bypass surgery in August and Bentley never left his side during his recuperation. If he leaves the room Bentley whines until he comes back.
Thanks for all your hard work in breeding these pups - they are a treasure. I told my husband if you ever have a small Irish mini goldendoodle female I'd love to get a companion for Bentley.
2. F1b mini goldendoodle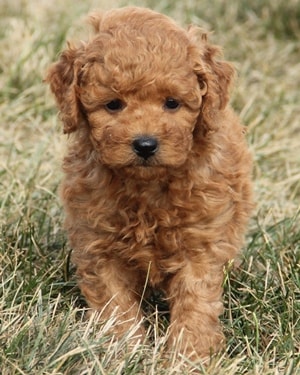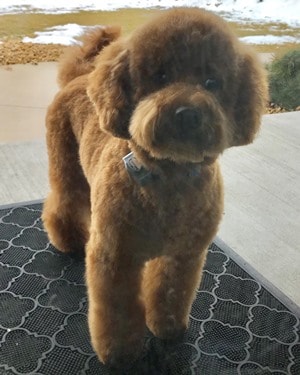 3. F1b mini Irish Goldendoodle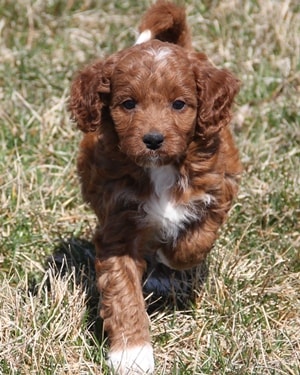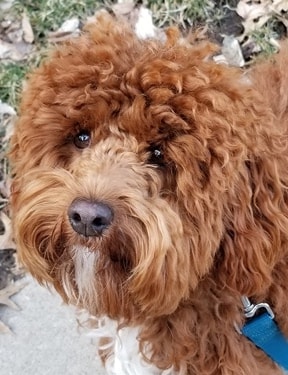 I wanted to share a couple of pictures with you of Poppy. She has brought wonderful joy and love to my life. I can't image what I did before her.
These pictures were taken right around her 1st birthday, so she still has her winter long hair. She's about 14 lbs (perfect size), doesn't shed and is very smart (sometimes I think too smart). Poppy was very easy to train and, thankfully, loves to snuggle with me.
I hope you and your family are well.
4. F1b mini goldendoodles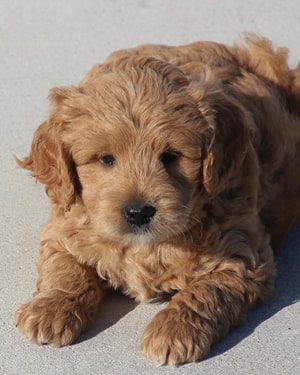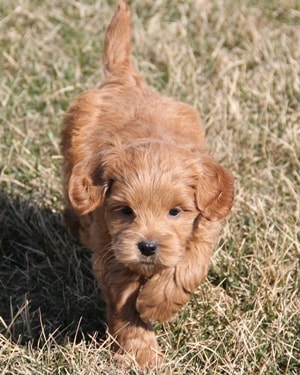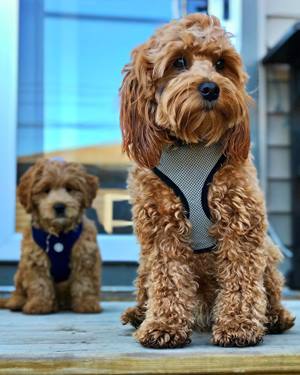 5. F1 mini Irish goldendoodle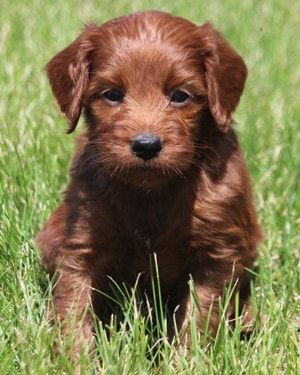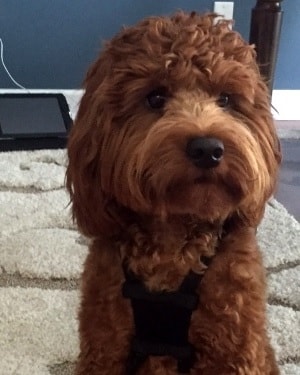 6. Multigen mini goldendoodle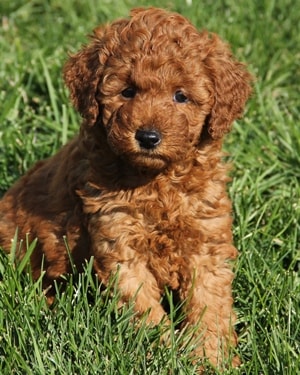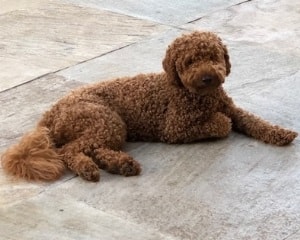 Kona just turned 1 year old on September 24th and I wanted to give you an update. She is doing great and has the best disposition of any dog I know! She gets along well with other dogs and kids, in fact she and my 4 1/2-year-old niece have a very special relationship! They just love each other! She has gone on a lot of camping trips this summer with us and is an important part of our family. We love her!!
7. F1 mini Irish goldendoodle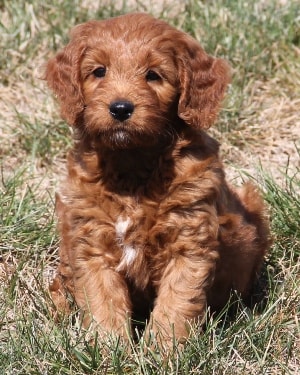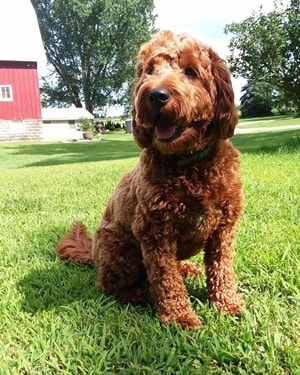 It's time for an update on our dog Buddy he is from last July 28th litter stormy and poppy puppy #1.
To date he is 38 lbs and 18 inches at shoulders. Very mahogany red beautiful color. His coat is mixed with tight and loose curls and some wave.
Posture is stout with very muscular legs. His gate is very good. We get complements on him everywhere we go and when asked we give your info to people as well. He has an excellent personality and loves people. Sometimes we wonder if he has some goat in him because he eats any and everything in sight. He's a good looking dog but yet he's a dog meaning he does dog stuff.
We are very happy with him. If you are interested in further up dates or more pic let me know.
8. Multigen mini goldendoodle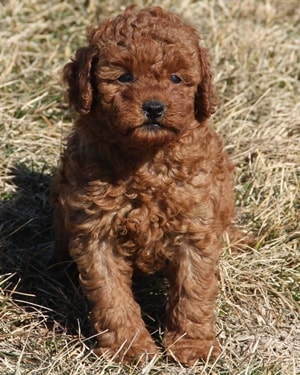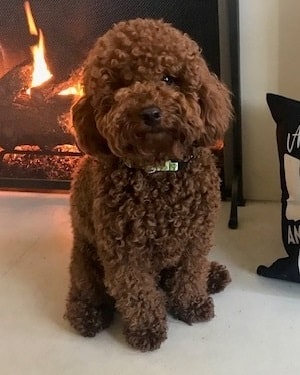 9. F1b mini Irish goldendoodle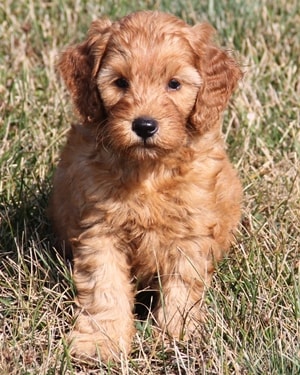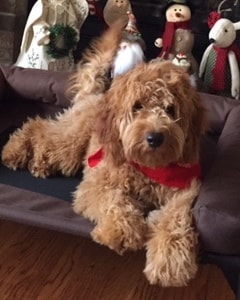 10. F1 mini Irish goldendoodle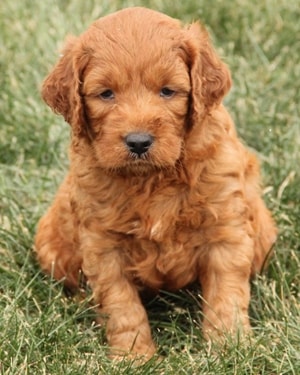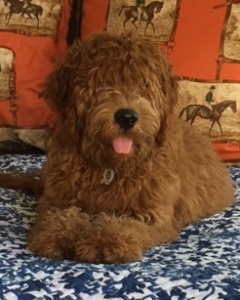 11. F1 mini Irish goldendoodle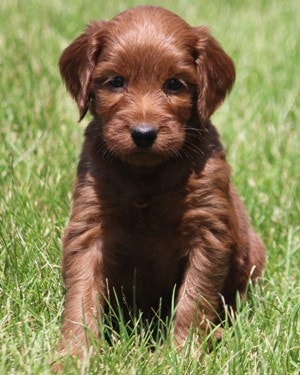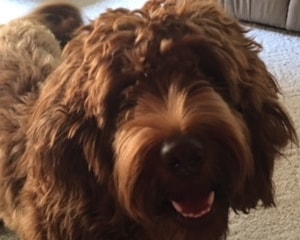 12. F1b mini goldendoodle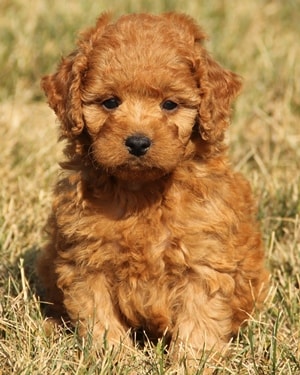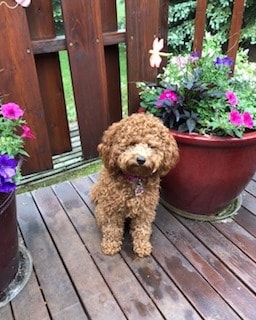 This is Lola one of your pups I got last August from you. She has been the best pup. Loves, loves people and other dogs. Her personality is the best! She was to puppy school last summer and did well. She can't get enough of playing fetch- one of her favorite things to do. Just thought I'd share photos so you can see how she's doing. We love her so much- she is everything I wanted in a pup. Thank you!
13. F1b mini goldendoodle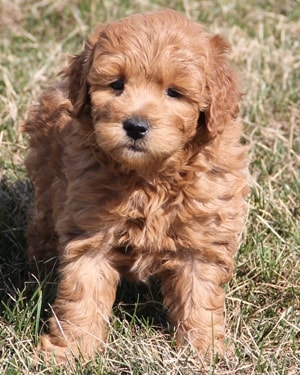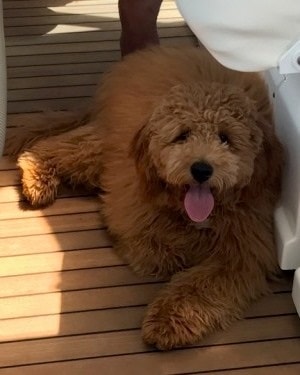 14. Multigen mini goldendoodle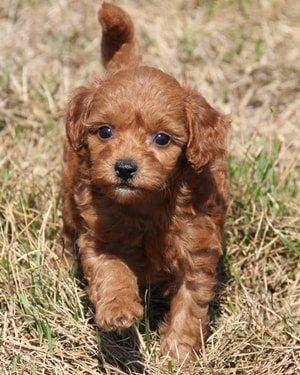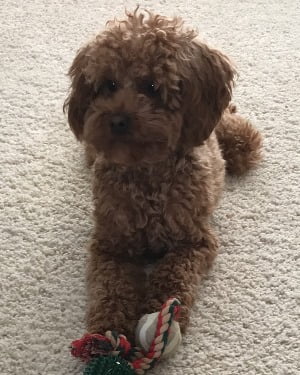 15. F1 mini Irish goldendoodle