The Mini Irish Goldendoodle
Mini Irish Goldendoodles:
Are a three way hybrid cross between the Irish Setter, Golden Retriever, and Mini Poodle breeds.
Can range from 15-50 lbs as adults.
Are dark golden to red mahogany coloring.
Coats are generally low shedding and allergy friendly.
Are very friendly and social.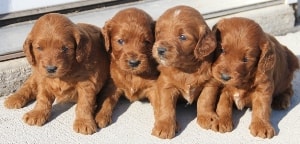 Available Puppies
We have puppies available throughout the year and start accepting reservations after puppies are born. We will list current and upcoming availability on our puppy page.
Mini Irish goldendoodles come with our two year guarantee, a health report from our vet, vaccination/deworming schedule, and our influence on their first weeks with us.
Dark Red
We have long been intrigued with the dark red coloring of mini goldendoodles. We have found the mini goldendoodle breed to fade lighter even if puppies are the darkest red as can be as puppies.
Irish setters have the unique quality of staying their deep red coloring, even darkening within the first months of life. In order to maintain a darker red coloring, we chose this three way cross as our pick.
As you can see from the pictures below, our mini irish goldendoodles have a deep red coat when young. Our past puppy page shows how puppies maintain their dark red coloring as they age.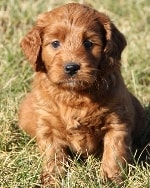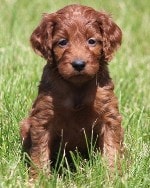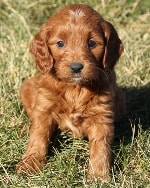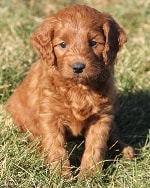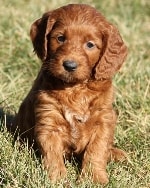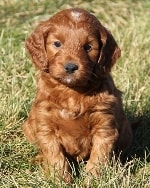 Size
Our mini Irish goldendoodles can range in size from 15-50 lbs, depending on the size of the parents. Each litter will have a narrower size range and each puppy will have an even closer adult size estimate by around 6 weeks old.
Disposition
Our mini Irish goldendoodles are very social and love attention. These puppies catch on quickly to consistent training and are well suited for families.
Children are a favorite of these puppies, who typically give them the attention they crave.
Mini Irish goldendoodles will need some exercise, which can be a daily romp in the yard or a walk or run. We recommend keeping smaller sized dogs to short jogs and longer runs to those on the larger end of our typical size range (30+ lbs).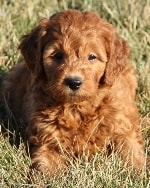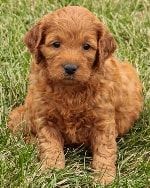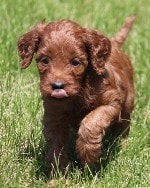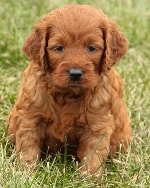 Our Breeding
To get our mini Irish goldendoodle puppies takes multiple generations since this is more than a two breed cross. We have years of planning before our mini Irish goldendoodle puppies ever exist.
The mothers of our mini irish goldendoodles are Irish retrievers (an Irish setter/golden retriever cross) that have a dark red coat. The fathers are mini poodles or multigen mini goldendoodles, which are at least 3rd generation mini goldendoodles with very low shedding coats and similar in size to our mini poodles.
These puppies have mild/low shedding coats and are similar in coat types, size range, and appearance to our f1 mini goldendoodles, only darker red in color.
We also raise an f1b equivalent version of our mini Irish goldendoodles that are smaller on average, more in the 15-35 lb range.
For this type, the mother is one of our first generation equivalent mini Irish goldendoodles and the father a mini poodle or multigen mini goldendoodle.
We see low to very low shedding curly coats similar to our f1b mini goldendoodles. These puppies work well for families with allergies.
We may also in the future raise a multigen version of our mini Irish goldendoodles, but we currently don't have those plans in place yet.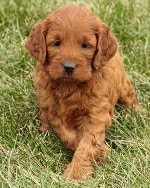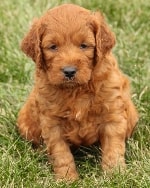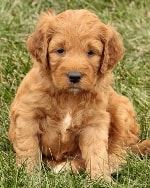 Reason for the Mini Irish Goldendoodle
We have a long history with raising mini goldendoodles and often get the request for the darkest red in the litter. With the golden retriever and poodle genetics predominantly giving fading in the coat color, even those goldendoodles with dark red coloring as puppies will fade lighter as they grow.
An Irish setter darkens from when they are first born and maintain their dark color throughout their life, aside from normal graying around the face as is common with almost every dog breed. This attribute is offsetting some of the fading we see with goldendoodles, so mini irish goldendoodles stay darker red than goldendoodles as adults.
We obviously don't have straight color genetics from the Irish setter breed, so there will be some fading with our puppies as they grow.
These three breeds match up well to give puppies that are social, intelligent, healthy, easily trained, keep a red coloring, and have low shedding. We know of no other breed or combination of breeds that give these qualities that we have worked many years to develop.