Mini Golden Puppies
15 years of experience:
We know mini goldendoodle puppies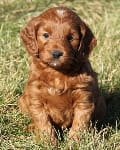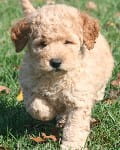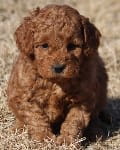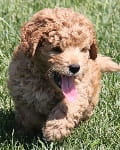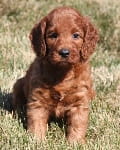 We Raise Mini Goldendoodle Puppies
We are a family raising puppies to be pets as perfect as we can. In our relaxed rural setting in Morning Sun, Iowa, we have cared for puppies for many years.
Doodles are our focus. As you travel through our site, you will see why.
Mini golden doodles and mini Irish golden doodles are some of the best pets for a wide range of settings and environments.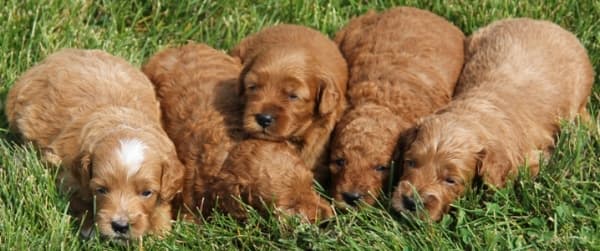 Goldendoodle
Golden doodle puppies are dogs with golden retriever and poodle genetics that have been bred to increase the gene pool from the purebred breeds and to introduce beneficial qualities into the goldendoodle breed.
Golden retrievers have long been known for being mild tempered, intelligent, and loving family pets while poodles have also been known for intelligence, trainability, and non shedding characteristics.
Irish setters are well known for being family pets with a love for attention.
Types of Puppies We Raise
We raise mini goldendoodle and mini Irish goldendoodle puppies.
Our miniature goldendoodle puppies are F1 (30-50 lbs), F1b (15-35 lbs), or multigen (10-25 lbs) and our mini Irish goldendoodles typically range from 15-50 lbs, depending on parent size.
Our Breeding
Mini Golden Puppies has extensive experience raising both standard and mini goldendoodles and labradoodles in the first generation and first generation backcross.
We have taken further steps to improve our breeding by introducing multigen mini goldendoodles and mini Irish goldendoodles.
Our puppies range in color from light golden to dark red, with mini Irish goldendoodles keeping the darkest red coloring.
We no longer raise standard size doodles or labradoodles.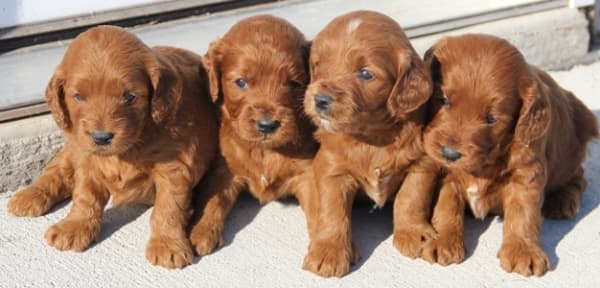 Size of Our Puppies
Our puppies typically range in size from 10-50 lbs. We normally get a 15-25 pound size range within each litter.
We consider all our puppies mini goldendoodles since we use the mini size poodle in all our goldendoodle types.
Our puppies in the 25-50 pound range are considered the medium size and puppies in the 10-25 pound range are miniature size.
Many breeders have different definitions for size and some use the terminology "petite" or "toy", which we don't use. We also don't use the smallest size of poodles, which are correctly called toy poodles (also referred to as teacup or tiny for the smallest toys).
Some of our litters will have a size range that falls within both our classification of miniature and medium sizes, such as a 15-35 pound range. Litters that span both expected size ranges will be referred to by us as mini/medium size.
Our Philosophy
We concentrate our program on health, intelligence, social temperaments, and teddy bear appearances for our puppies.
Puppies come well socialized in our relaxed rural environment and fit in well with families that have children.
We put the most emphasis on our past experience rather than lists of requirements or guidelines set by another breeder or organization. We are not about to conform to a standard that we feel will adversely affect our focus on our doodle puppies and the specific teddy bear appearance, playful disposition, and health we strive for.
We also have found most registrations to contribute nothing to the breed, especially our specific focus.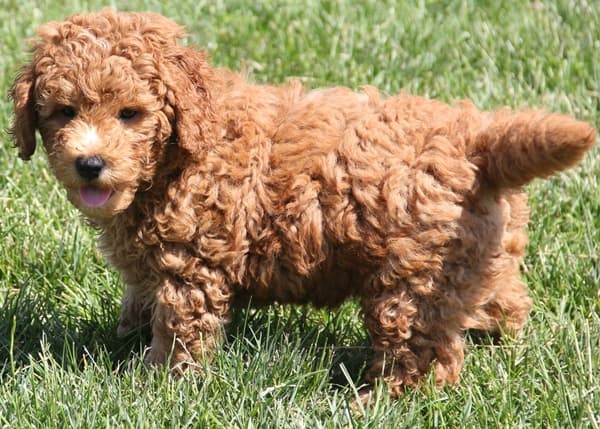 Where We Are
We are in Southeast Iowa, close to Burlington. We are about four hours from Chicago and St. Louis, five hours from Omaha, Kansas City, and Indianapolis, and six hours from Minneapolis.
We do not offer shipping for puppies. Moline, IL (MLI) is our closest airport that is a little over an hour from us.
How To Purchase
We accept a deposit of $500 to hold a puppy when we have a list opened.
Please view the respective pages from our mini goldendoodles and mini Irish goldendoodles for information on current or planned availability.
We don't always have puppies available and spots tend to be reserved quickly when we open a list for deposits. A detailed outline will be provided when when we get close to opening a list that will include how to reserve a puppy.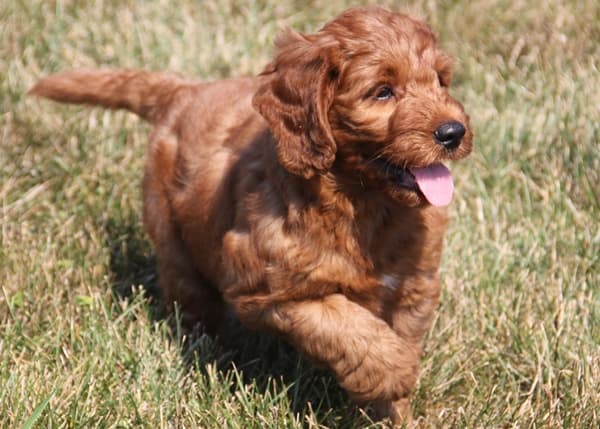 More Details
We have done extensive research into many aspects of the goldendoodle breed. Topics we have covered are:
Our recommendations for a new puppy
We have list of recommendations for families getting a new puppy. Suggestions we include are food brand, crate size, items to include when you come to pick up, and a good resource book.
Dog coat colors
We have done extensive research into genetics for dog colors. Coat colors are very complex in the canine family, and a good understanding of genetics is essential.
English goldendoodle myths
We often get the request for a red English goldendoodle. Red is not a trait of English goldens, so this is a type that doesn't exist.
Why to choose a mini goldendoodle
We have 5 reasons to buy a mini goldendoodle puppy. We like mini goldendoodles, but we have reasons for choosing and staying with this breed.
Male vs. Female
We often have families with a strong gender preference. We give a comparison of the differences we see between males and females.
Other topics planned:
Training tips
Grooming tips
Therapy training
We are open to suggestions
Thanks For Visiting
Feel free to look through our site and email if you have any questions.